Finest two bedroom town house, with sitting room-dining room, large terrace, kitchen, in an elegant historical palace near Piazza Navona and the antiques dealers' street Via Coronari. Excellent fittings and equipment.

Air conditioning
High speed Wi-FI internet access

Colour TV

Fully equipped kitchen w. fridge/freezer

High quality washing machine, dishwasher

Microwave

Remotely controlled heating
Jacuzzi
Video player (PAL, no NTSC),
Radio, stereo CD player
Piano
American coffee percolator

The apartment is also equipped with:

Alarm clock, bottled water, hair dryer,
linen and towels, paper towels, soap bars, shampoo, laundry detergent.

You will find a guide of local activities and local restaurants, and maps.


PROPERTY PRESENTATION

DETAILED PRESENTATION

The second bedroom (this page)

Visit also:
The second bedroom has a simple layout, yet it is well appointed and impeccable like all the other rooms.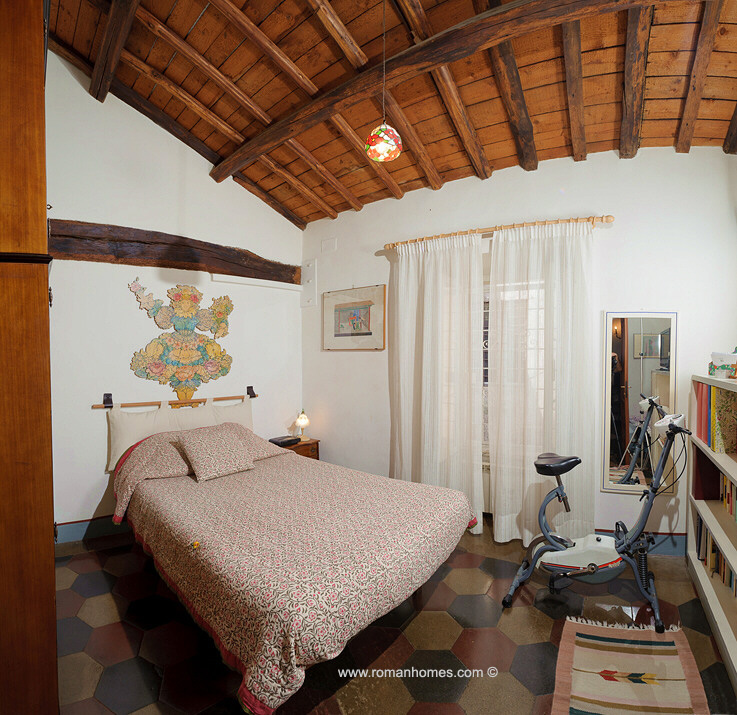 The well appointed second bedroom seen from its door
As you can see in the photo, the bed has a larger size than Italian single beds, which are normally 80 centimeters (or 31.5 inches) wide. This bed in fact is 120 centimeters (or 47.2 inches) wide, and it is thus very comfortable. In Italy, this bed size is called "una piazza e mezzo" ("one square and a half"), meaning that it is 1.5 larger than the normal measure - the "square" (or area). In many Rome apartments this size is used for couples, while in this townhouse it is used for single persons.
You can also see that the room is equipped with a "cyclette" or exercise bike - which is most useful to keep you in good shape to burn the extra calories of Rome's irresistible restaurants and catering services, mushrooming everywhere. Finally, in the above picture you can see the window, which overlooks a secluded and silent internal court with plants between the town house and the neighboring palaces. Fine courtains enable privacy.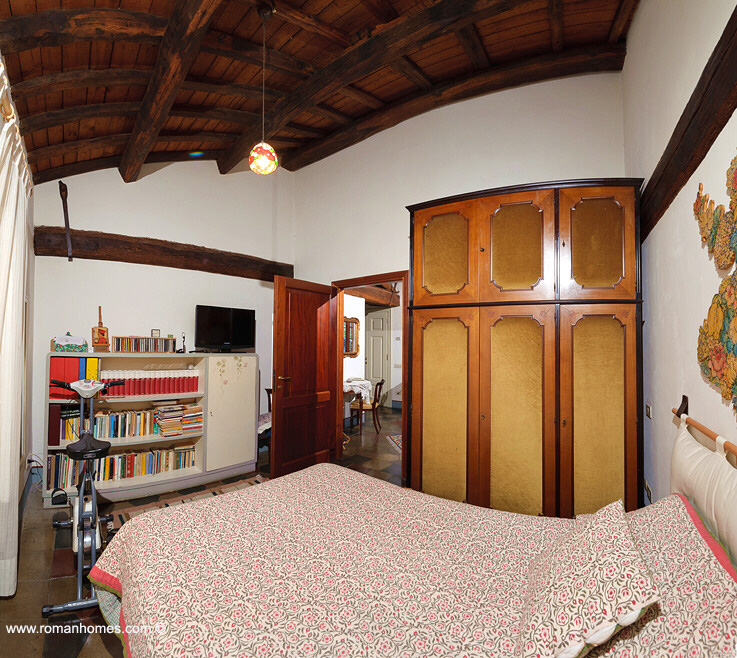 Opposite view of the second bedroom, showing the ample wardrobe and the bookshelves
The opposite photos allows you to see more features of the room: a large and roomy wardrobe, ample bookshelves, and a digital colour TV set. Last but not least, this room also has the marvellous chestnut wooden beamed ceilings, held by the original ancient chestnut architraves, which appear englobed in the room walls by the careful renovation.





Visit Rome | Rome panoramic views | Rome apartments and villas | Inquire | Rome travel guide | Rome map | Service | Resources
Roman Homes homepage