The kitchen of the Navona Signora is really the corner stone of the home. It is ample, bright, decorated state-of-the-art, and also - as it is typical of this property - with state-of-the-art appliances.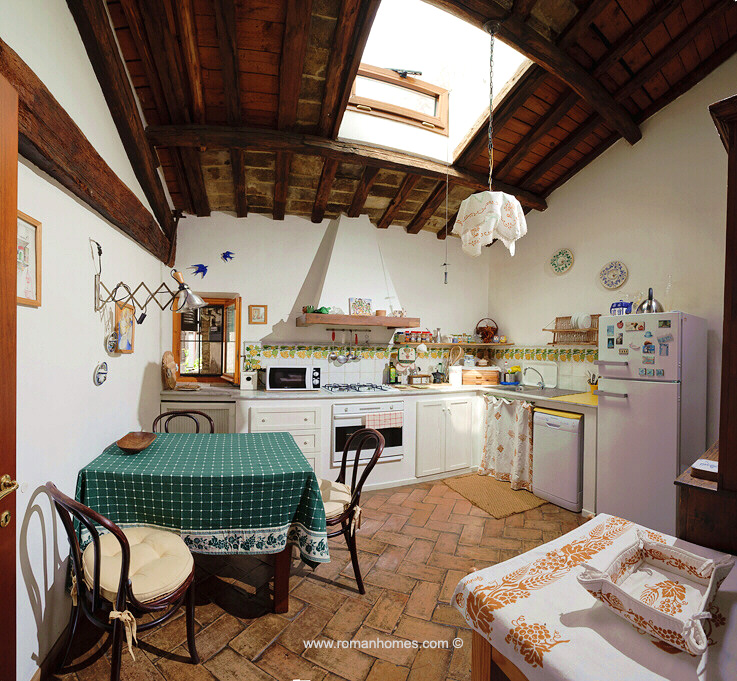 The ample and most inviting kitchen seen from its door
As soon as you can see, the floor is different from the rest of the property. In fact, they are made with very old "cotto" tiles, giving it a distinct personality, and a pleasant feel. The room has an own window (overlooking a silent internal court with plants), and especially it has a peculiar sky window, built in the 19 century, which is actually a little tower jutting from the roof, to enable solar irradiaton from different sides (please also see its photo below).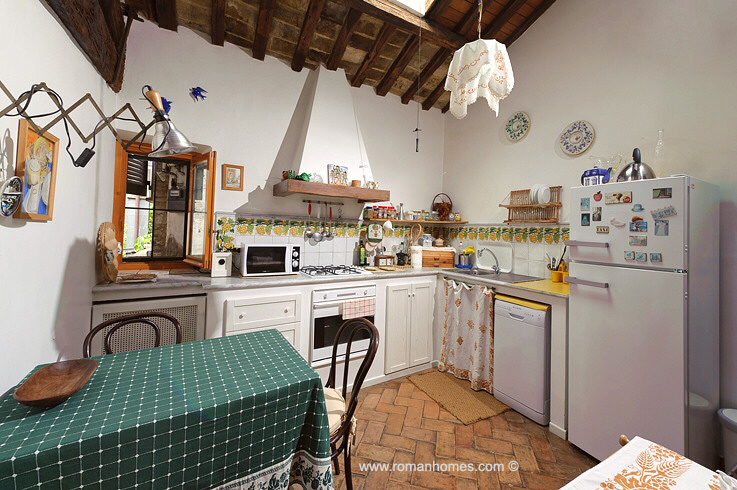 A closer view of the kitchen, enables to see all its elements and of the equipment.
Leaving aside the architectural features, the equipment is excellent, enabling any visitor to feel at home. You find in fact: a very large fride / freezer of the German brand "Miele", one of the best in the world; the stoves (fires) with their hood; a dish-washer, a microwave owner, and naturally excellent cutlery, dishes, pots and pans, and coffee pots.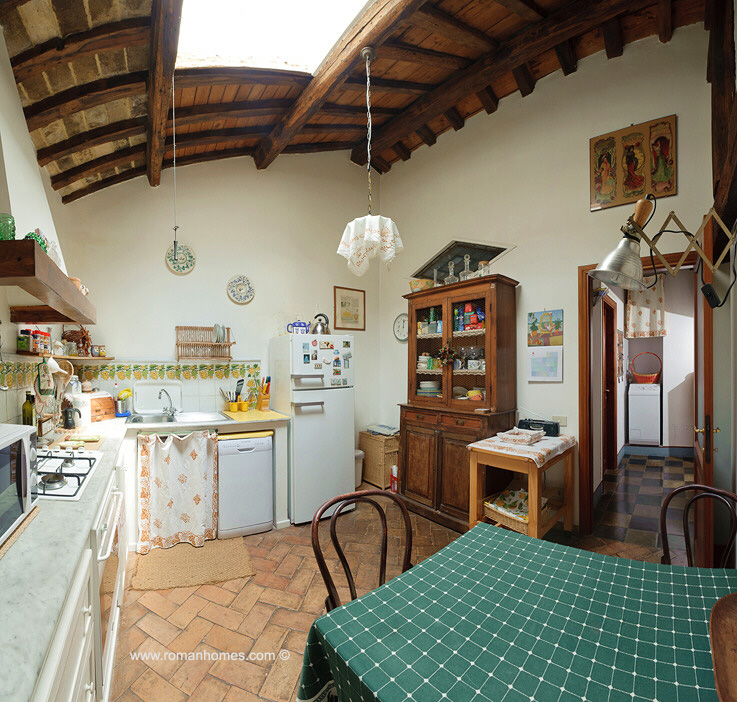 Opposite view of the kitchen
The opposite view enables to see the table, comfortably seating three persons, an old cherry wood cupboard, a small wooden table, and naturally, as it is typical of this house, you also find paintings, and a very nice wall clock.
The sky window of the kitchen, which is actually a small turret jutting out in the roof, enabling to receive solar irradiation from different angles, thus maximizing sunlight.

It also includes a small window, which can be opened pulling a rope with handle.

Right photo: the ceiling turret of the kitchen, covered with glass, and also with a window
Completing the equipment of the kitchen, you also find nearby in the corridor a built-in storage, which is ample and which contains also the iron with iron board, the vacuum cleaner, and near to it, in a different corner, you find the ample washing machine, of the famous German brand Miele (by many considered to be the best).
| | |
| --- | --- |
| The built-in storage in the corridor near the kitchen | The "Miele" brand ample washing machine, in the corridor near the kitchen |