Finest two bedroom town house, with sitting room-dining room, large terrace, kitchen, in an elegant historical palace near Piazza Navona and the antiques dealers' street Via Coronari. Excellent fittings and equipment.

Air conditioning
High speed Wi-FI internet access

Colour TV

Fully equipped kitchen w. fridge/freezer

High quality washing machine, dishwasher

Microwave

Remotely controlled heating
Jacuzzi
Video player (PAL, no NTSC),
Radio, stereo CD player
Piano
American coffee percolator

The apartment is also equipped with:

Alarm clock, bottled water, hair dryer,
linen and towels, paper towels, soap bars, shampoo, laundry detergent.
You will find a guide of local activities and local restaurants, and maps.


PROPERTY PRESENTATION

DETAILED PRESENTATION

The foyer and the corridor (this page)

Visit also:
The foyer and the corridors are one of the noteworthy aspects of this lovely property.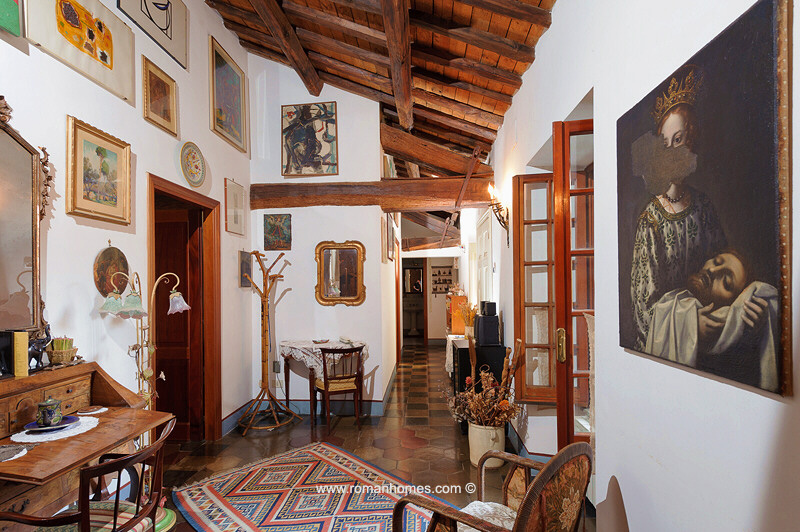 The foyer or lobby is situated just past the entry door, and it continues with a corridor to the master bedroom, bathroom and kitchen
The foyer is ample and its striking feature are the lavish furniture and its paintings. You find two small tables (most useful to leave objects) with a chair, an antique, beautiful desk complete with mirror and its chair, a set of three finest reading lamps (near the desk), a wooden hall or clothes stand, an intriguing carpet, another elegant chair, and many paintings.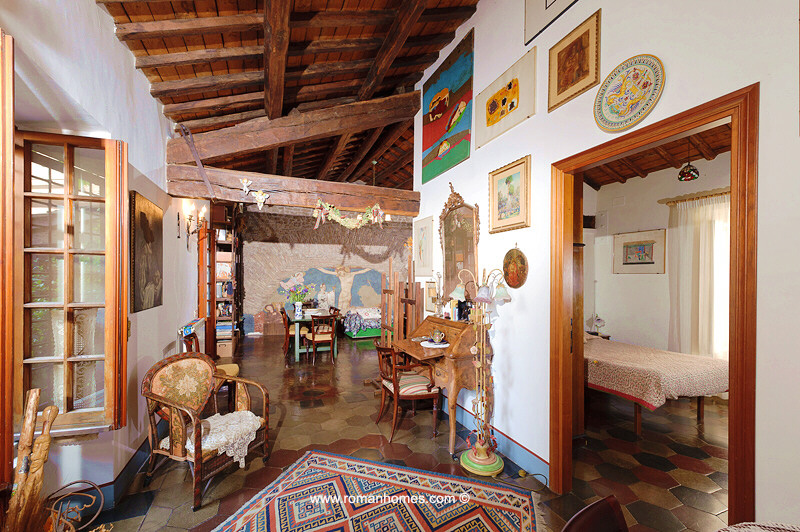 The opposite view of the foyer enables to have a glimpse also of the second bedroom and of the sitting room
As you can see in the photo, the foyer, like all the property, displays the beautiful large ancient chestnut architraves, and the beams and planks of the roof, stil l of chestnut.
As you can also see in the above photo, to the left you find a window, which enables to have a glimpse of the terrace and of the neighboring palaces (right photo).

Right photo: view from the window of the foyer
The foyer and the corridor are lavishly decorated with paintings (right photo).

At first look they appear to be a collection of paintings of different schools and eras. Instead, they reveal the owner's taste on one hand for surrealist paintings, and on the other hand for more classical schools, in particular of the 16th century, with its sharp contrast of light and dark, and vivid colours.

As you would expect, some paintings reflect persaonal experiences of the owner.
Also in the corridor to the master bedroom you find another collection of paintings, more imaginative than the set of the foyer.

Some paintings resemble the Modigliani school (the 20th century painter with a preference for surrealist women bodies), while one is a Chinese print of ancient times. Finally you find a caricature of the owner.





Visit Rome | Rome panoramic views | Rome apartments and villas | Inquire | Rome travel guide | Rome map | Service | Resources
Roman Homes homepage