Finest two bedroom town house, with sitting room-dining room, large terrace, kitchen, in an elegant historical palace near Piazza Navona and the antiques dealers' street Via Coronari. Excellent fittings and equipment.

Air conditioning
High speed Wi-FI internet access

Colour TV

Fully equipped kitchen w. fridge/freezer

High quality washing machine, dishwasher

Microwave

Remotely controlled heating
Jacuzzi
Video player (PAL, no NTSC),
Radio, stereo CD player
Piano
American coffee percolator

The apartment is also equipped with:

Alarm clock, bottled water, hair dryer,
linen and towels, paper towels, soap bars, shampoo, laundry detergent.
You will find a guide of local activities and local restaurants, and maps.

PROPERTY PRESENTATION

DETAILED PRESENTATION

The bathroom (this page)

Visit also:
The bathroom is most elegant and prepared with skillful grace. It is also sparkling and flawless, and well equipped.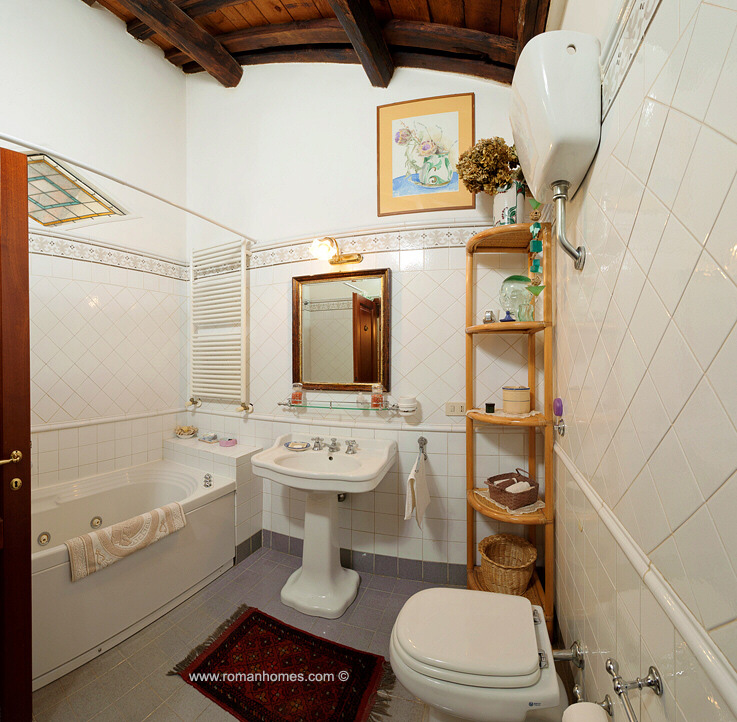 The sparkling and elegant bathroom
The tiles are the most important decorative feature. Though sober, they are extremely refined. At first look they seem to have a design of the tiles Vietri (a town in the Amalfi coast famous for its beautiful tiles), yet they actually originate from Northern Italy, as they have the style of the villas along the Via Emilia (Emilia road) and of the region of Venice. White and grey (with different grades) are the prevailing colours, and the Greek fret has a leafy decoration.
The bathroom includes: an early 20th century style sink, the toilet and the bidet (the latter is not visible in the photo as it was near the entrance where from the photo was snapped), elegant wooden shelves and a graceful mirror. As you can clearly see, the heating radiator if of Swedish type, IE with horizontal bars, enabling you to hang on them your towels or garments to dry. A little Persian carpet completes the decorative elements.
In the right photo, a closer view enables to see that the bathtub is a Jacuzzi.

The shower is hand-held, and naturally you find a fine plastic courtain enabling to avoid water falling outside the bathtub as one showers.

You can also see that on both sides the bathtub has ample tiled shelves to lay soap bars and shampoo bottles.

A closer view of the Jacuzzi bathtub
| | |
| --- | --- |
| The window of the bathroom deserves a final note. It brings light from the large kitchen sky window (which as mentioned in the kitchen presentation is actually a little glass tower jutting out the roof), and it is prepared with a fine mosaic of coloured opal glass, having a rhomboidal shape. The wisely chosen colours are gold and grey. | |





Visit Rome | Rome panoramic views | Rome apartments and villas | Inquire | Rome travel guide | Rome map | Service | Resources
Roman Homes homepage