Years ago we began this service, which was requested by our clients. At that stage, it was the first car service online prepared in Italy. It sounds ages ago, yet our service to this day is most dependable and professional, with impeccable cars, and courteous English-speaking drivers. Best of all, prices are competitive with those of taxi, although the service if of much higher quality.
Taxi sometimes are on strike, or if there is a general strike (not infrequent in Italy) they are overbooked (you will find yourself helpessly stranded at the airport). You will also have to walk all the way to the taxi stand, and stay in line waiting for your turn.
Taxi cannot be booked (if not the night before), so you always take your chances of not finding them. On the contrary, our car service can be booked in advance (through us), and the driver will be just out of customs with a board with your name.
The driver will bring you straight to your apartment or villa, without need to give instructions (the apartments or villas are not easy to find for taxi drivers).
The driver has also constant feedback with us and with the assistant waiting for you at the apartment or villa, and he will be reporting about your plane landing, customs clearing, when he will meet you at the airport, when he will put you in the car etc.
Finally, the check-in will be geared on your plane landing and customs clearing, and not on a precise time at the apartment, which you could possibly not be able to comply.
We can organize a variety of transport. Firstly, from Rome's airports or train stations to your apartment or villa in Rome. Yet we can also prepare transports and daily excursions to Pompeii, Herculaneum, Hadrian's Villa, Tivoli Gardens, the ancient Appian Way, and all the way to Assisi, or the Amalfi Coast.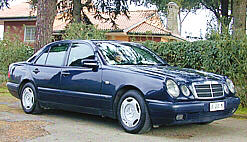 The car service is organize with a variety of cars, from smaller sedans to larger vans or minibus for larger parties.
Mercedes Sedan
For a more detailed presentation of this service please visit also our specific related site about Rome car service