Finest two bedroom town house, with sitting room-dining room, large terrace, kitchen, in an elegant historical palace near Piazza Navona and the antiques dealers' street Via Coronari. Excellent fittings and equipment.

Air conditioning
High speed Wi-FI internet access

Colour TV

Fully equipped kitchen w. fridge/freezer

High quality washing machine, dishwasher

Microwave

Remotely controlled heating
Jacuzzi
Video player (PAL, no NTSC),
Radio, stereo CD player
Piano
American coffee percolator

The apartment is also equipped with:

Alarm clock, bottled water, hair dryer,
linen and towels, paper towels, soap bars, shampoo, laundry detergent.

You will find a guide of local activities and local restaurants, and maps.


PROPERTY PRESENTATION

DETAILED PRESENTATION

The terrace (this page)

Visit also:
The lovely terrace of the Navona Signora is silent and endowed with leafy plants and flowers all year round. Needless to say it is private and cozy.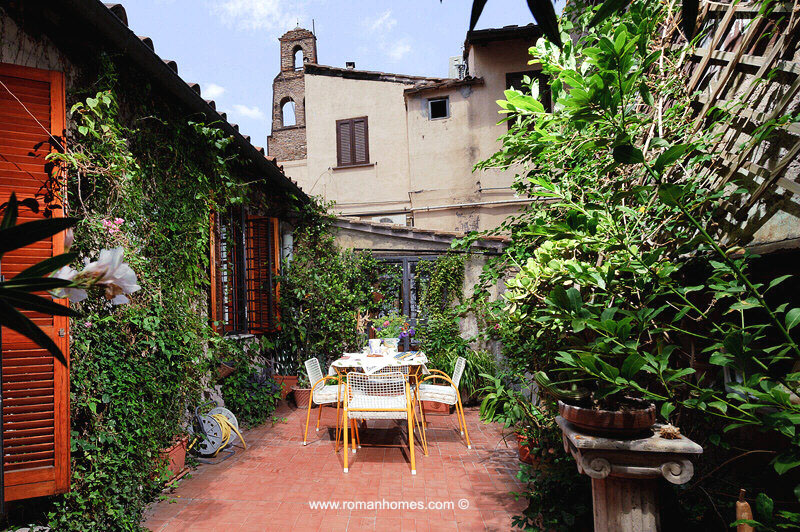 The terrace as seen just past its entry door from the sitting room
Among the plants you can single out a few oleanders, orange trees, geraniums, and an assortment of other flowery plants.
| | |
| --- | --- |
| The terrace table, seen from the window of the foyer | A closer view of the table and chairs of the terrace |
The table and the chairs are metal-made, and they are thus robust (no plastic). They are very comfortable, and they are an ideal place for enjoyable breakfasts, meals, and to drink a glass of wine while talking about your day spent sightseeing Rome.
From the terrace you can have a (right photo) view of the townhouse entrance from Via della Vetrina, and of the neighboring palaces.

The entire block is very quiet at all times.
Opposite view of the terrace, with oleanders and geraniums. You find also a little column with Ionic capital, which is the base of succulent plants





Visit Rome | Rome panoramic views | Rome apartments and villas | Inquire | Rome travel guide | Rome map | Service | Resources
Roman Homes homepage