Campo de' Fiori "Botticelli" - the twin beds room
Elegant designer two bedroom, sitting room, dining room apt. with terrace, fireplace and two bathrooms. Silent, tastefully furnished, it is also remarkably equipped.

Air conditioning in every room
Perfect heating, regulated with thermostat
2 Large LCD Sony colour TVs with satellite dish, one is 55" inches wide (!)
2 Hi-Fi stereo sets
DVD and CD player
WI-FI internet connection
Complimentary cell phone
Washing machine - NEW: clothes dryer
Iron and iron board
Fully equipped kitchen also with microwave oven
baby cot bed
working fireplace (only for careful tenants)

Apartment presentation

Twin beds room, its bathroom (this page)

Visit also:

Rome centre map, for the exact location of each property.
Via dei Cappellari (under preparation)
The twin beds room is ideal for adults sleeping separately, or for children. It is appr. 6 x 3 Mts. (20 x 10 Ft.) large. Although it has the same wooden beamed ceiling (of nut tree), the floors have carpeting (French: parquet), and in general its style is somewhat more lively and "younger".
The room includes naturally the two twin beds and a small bedside table between them, near the large window. You find also a large desk with armchair (ideal to write your travel memories or postcards), and a large wardrobe.
The room has many details worth mentioning. You find a little bookcase (behind the the desk, please look the above photo), yet above all you find many interesting paintings. Some, as it occurs in the rest of the apartment, are original surrealist paintings of the American painter Hayter. You also find (between the beds and the desk, upon an old-fashioned wooden table, please look the photo below), a certified copy of a painting the famous Italian painter De Chirico (signed by the author). Finally, there is a built-in closet, between the wardrobe and the door of the room.
This room also includes an en-suite bathroom, which was recently entirely renovated.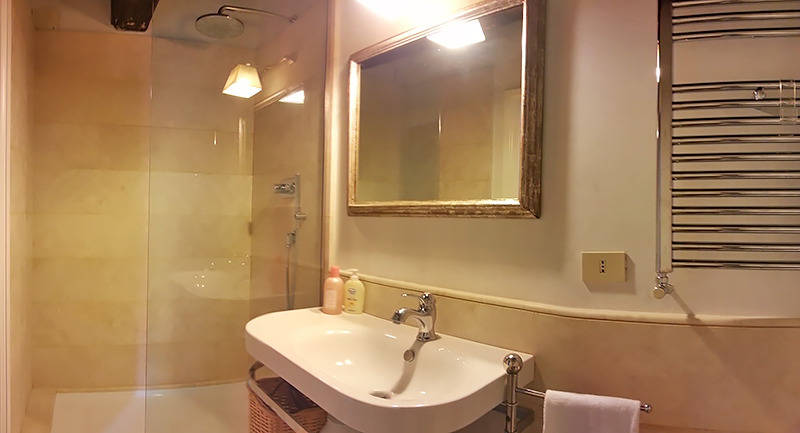 The renovated bathroom, side view towards the shower enclosure, with view of the sink and of the mirror.
In this opposite photo (right) you can see the the bidet, the toilet, the Swedish-type radiator (which is ideal to hang and dry wet towels).

Following the owner's passion for art, you find even here fine paintings, a feature present in all the apartment.

One last note is about the view from the window, which is the same of the window of the sitting room: a secluded court, not open to the public (click on the link to see its photo).

The court gives you an idea of the "Roma sparita", the vanished Rome of the previous centuries, cherished with nostalgia by Romans (and by Rome's connoisseurs). Leaving aside the intriguing view, the space and thus not having an adjacent building enables to have more space near the apartment, and thus sheer luminosity coming through the window.

Visit Rome | Rome panoramic views | Rome apartments and villas | Inquire | Rome travel guide | Rome map | Service | Resources
Roman Homes homepage