SPANISH STEPS "REGINA" (Via San Giacomo) -
Deluxe three bedroom three bathroom suite with terrace
Deluxe three bedroom, double sitting room, dining room, study room, 3 bathrooms, kitchen apartment with terrace and garden, balconies.

perfect air conditioning in each room
complimentary Italian cell phone
fast WI-Fin internet connection 24/7
colour TV (two sets)
satellite dish to watch international channels
Jacuzzi in master bathroom
washing machine-clothes dryer;
iron, ironing board
dish washer
indipendent heating (with customized regulation)
Italian Nespresso coffee machine
complete mid-week cleaning and change of linen and towels
complimentary bottles of fine Italian wines and starters (food) provided

APARTMENT PRESENTATION

Sitting room presentation

Visit also:
"Regina" is a high-end property in Via San Giacomo by the Spanish Steps. It is truly a dream home: the palazzo is one of the most elegant in the centre, entirely renovated, with a large court with plants (a rarity in this quarter). Traffic is not allowed in the street, so it is utmost silent. This is rare in Rome, and especially near the Spanish Steps, where there is a very enjoyable atmosphere, but also a lot of noise. The apartment is very bright and sunny, and utmost silent. You hear birds chirping, and the squawks of the seagulls of the Tiber nesting in the roofs of the palaces (sometime they land in the terrace!).
This apartment represents the sophisticated Italian style and taste. The elegance, the plentiful space, the quality of the unit, and the quiet environs create a uniquely pleasant and inspiring atmosphere of serenity and beauty. "A world within the world", as a diplomat staying at the apartment wrote in the guest book.
The apartment - a regency - is app. 180 meters large (app. 1,900 square feet), at the third floor (it would be the fourth in the USA) with *elevator*.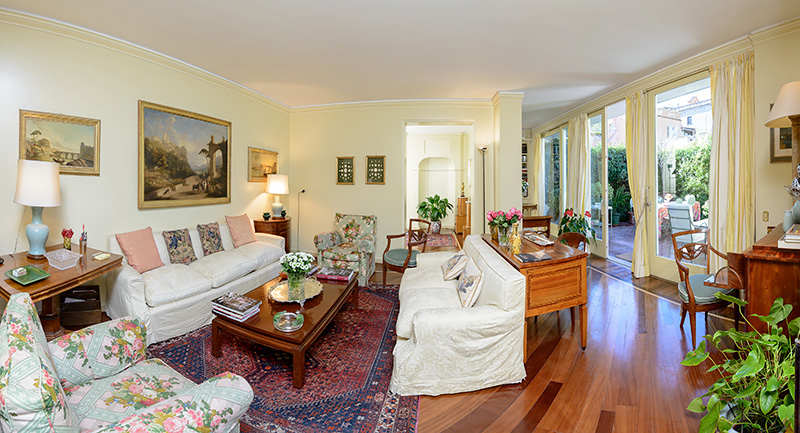 The sitting room and the study


The spacious sitting room is actually of double size. It includes two sofas, two armchairs, various tables and side tables, fine lamps and large paintings of famous old masters. To its right you can see the foyer (it is the room with the little palm tree, a specific page presents it), and then in the background the study room, which is better shown in the next photo, snapped from the door leading to the terrace-garden. To the right, in the foreground, you can see another study area with desk, and a fine chest of drawers.


This opposite photo highlights in particular the desk to the left, the fine chest of drawers in the middle, and the study area to the right, which includes a psychoanalyst bed, a table, and a fine bookcase.



Concise presentation

The apartment includes:
- a spacious foyer
- 3 bedrooms (two double - king size and twins, and one single, in which a fold-out can be placed)
- three bathrooms bathrooms (one with Jacuzzi, one with bathtub and hand-held shower, one with shower)
- a spacious kitchen
- a large (double) most elegant sitting room
- a small study
- an elegant and spacious dining room
- a spacious terrace with garden (with views of the churches nearby). It includes also trees, and it has large elegant awnings (automated, with electrical engine and remote control) which can cover it entirely in the sunny and hot days.
- two balconies (all bedrooms have balconies) with plants and views complete the property.

The apartment is furnished with utmost taste in every detail, in a superior fashion. There are wooden floors, in some areas with moquette (wall-to-wall carpeting), marble floors in other areas, Persian carpets in the remaining surfaces. You find chandeliers, finest lamps, and many paintings of old and famous masters etc.

back to top

NEXT PAGE: the dining room




Visit Rome | Rome panoramic views | Rome apartments and villas | Inquire | Rome travel guide | Rome map | Service | Resources
Roman Homes homepage