Campo de' Fiori - Jewish quarter

Tortoise apartment

The twin beds room



Air conditioning

Colour TV with satellite dish

Fully equipped kitchen

Washing machine, dishwasher, microwave

American coffee percolator
Normal landline telephone
Internet Wi-Fi high speed internet

Personal guide of Jewish Rome on request

To Rome centre map, for the exact location.

Twin beds room, its bathroom (this page)

Visit also:
As mentioned, the three bedrooms (and thus the three bathrooms) have an own corridor, which begins from the dining room, separating the sleeping quarters for more privacy.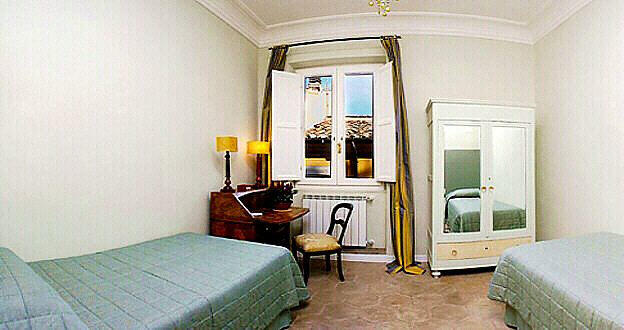 The cozy twin beds room, with elegant old-fashioned desk, and view of old Rome's roofs.
The twin beds room is the first in the corridor, and it faces Via dei Falegnami, like the dining room and the sitting room. It is furnished in a simple, yet mannerly fashion, and as a result it is quite cozy. It is ideal for kids or young people.
The opposite photo shows the heads of the beds, and the air conditioner.
The floors, as it occurs in all the bedrooms, are of a special octagonal old fashioned "cotto" tiles. The beds have ample bedheads for additional comfort. As it occurs for every room of the apartment, this room is fully air conditioned (notice the modern hi-tech "split" conditioner with internal blower and remote control, placed on the desk).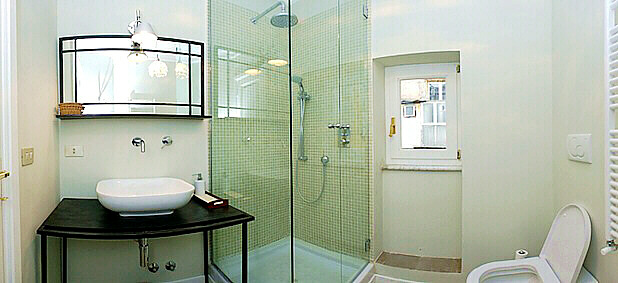 The modern and elegant bathroom of this room.
The bathroom of this room is situated in the corridor, very near to it. It has an own window facing an internal court of the palace. Like all the other bathrooms, it has a modern, functional design, with tesserae. The shower box has glass walls, and the radiator, following a Northern European fashion, is conceived to allow towels to be hung and to be dried.
---
For a detailed presentation of the rooms, please go to the INDEX on top of this page or - best - look the 3D FLOOR PLANS in different angles (an innovative feature) or, alternatively, just click any space of both the 3D or 2D FLOOR PLAN, you will immediately go to the page with photos presenting it.





Visit Rome | Rome panoramic views | Rome apartments and villas | Inquire | Rome travel guide | Rome map | Service | Resources
Roman Homes homepage