Campo de' Fiori - Jewish quarter

Tortoise apartment

The master bedroom



Air conditioning

Colour TV with satellite dish

Fully equipped kitchen

Washing machine, dishwasher, microwave

American coffee percolator
Normal landline telephone
Internet Wi-Fi high speed internet

Personal guide of Jewish Rome on request

To Rome centre map, for the exact location.

Master bedroom, its bathroom (this page)

Visit also:
All the bedrooms are utmost quiet. As with all the bathrooms, and they can be reached through a corridor which begins from the dining room. They form thus the sleeping quarters of the apartment.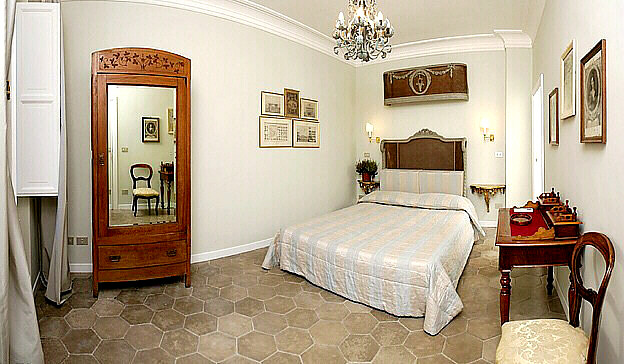 Master bedroom, seen from its door, notice the head of the bed, of the 17th century
The master bedroom is situated at the end of the above mentioned corridor (which has an "L" shape). It is ample and it includes a double bed (of standard Italian size, 180 cm. width x 190 cm. length, IE 71x75 inches). The fine wooden 19th century furniture includes a wardrobe, an elegant desk, and bed side tables. Yet the highlight of the room is the original 17th century bedhead, which was used by the ancestors of the owners.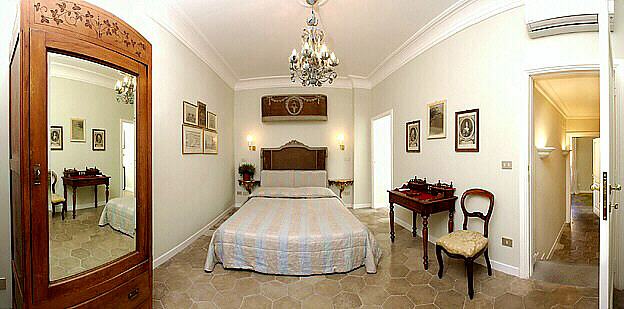 Master bedroom, seen from its window, allowing to see the corridor leading to room, and also the bathroom door.
Fine paintings, recalling events or the ancestors of the family, a classy chandelier and a chair complete this room. The window faces a quiet internal quarter of the palace. Also this room is equipped with air conditioning.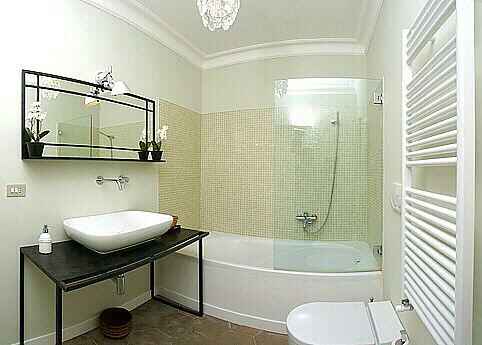 The tidy and elegant en-suite bathroom of this bedroom
The elegant en-suite bathroom, as the photo shows, is spotless. It follows the current fashion of modern design (with the use of tesserae IE small ceramic pieces. Surprisingly, it matches quite well with the classical style of the bedroom.
As you can see in the above photo, you find a bathtub with hand-held shower, a large sink for two persons, the toilet, the bidet, and finally a wall-mounted grid-type radiator, enabling you to dry towels by just handing them on it.

As mentioned, this rooms is accessed from the corridor connecting all bedrooms. The corridor has an "L" shape, and the final part of the corridor after the bend leads specifically to this corridor. Consequently this room allows additional privacy.

(Right): The corridor to this bedroom
---
For a detailed presentation of the rooms, please go to the INDEX on top of this page or - best - look the 3D FLOOR PLANS in different angles (an innovative feature) or, alternatively, just click any space of both the 3D or 2D FLOOR PLAN, you will immediately go to the page with photos presenting it.





Visit Rome | Rome panoramic views | Rome apartments and villas | Inquire | Rome travel guide | Rome map | Service | Resources
Roman Homes homepage