Campo de' Fiori - Jewish quarter

Tortoise apartment

The sitting room



Air conditioning

Colour TV with satellite dish

Fully equipped kitchen

Washing machine, dishwasher, microwave

American coffee percolator
Normal landline telephone
Internet Wi-Fi high speed internet

Personal guide of Jewish Rome on request

To Rome centre map, for the exact location.

The sitting room (this room)

Visit also:
The sitting room is spacious and mannerly, and sits comfortably six persons. Its two large windows face Via dei Falegnami (Carpenters' street), a quiet street, still with the original craftsmen, and also with intruiguing shops (silverware, bookshops, boutiques, drapers' shops etc.), and some fine restaurants and cafes.
The sitting room, seen from the foyer of the apartment
The floor is made of a particular material, called "Graniglia", fashionable in the 19th century in central Italy. It is made of inclusions of various types of marbles bonded together, giving a sort of mosaic effect. The walls are painted with a very delicate pastel grade, and stuccoes are placed at the edges with the roof.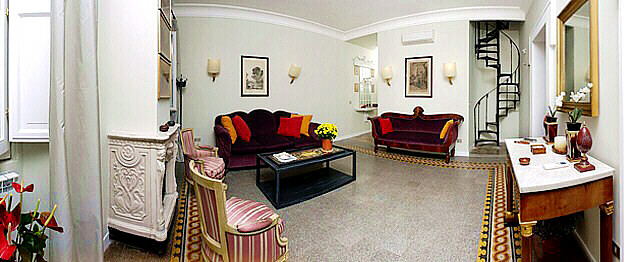 Opposite view, seen from the second door of the dining room.
This room is endowed with two large sofas, a wooden table, and two armchairs. An ample wooden desk covered with marble (of a variant called "Botticino") is placed between the doors leading to the dining room. On top of it you find a large mirror with a gilt frame. Fine paintings and lamps decorate the room. As you can see in the photo above, a large wrought-iron spiral staircase leads to the roof garden.
The sitting room is preceded by an ample foyer (you can see it in the above photo). It is endowed with a fine white "boiserie" (wood panelling furniture), made of several wooden pieces: a desk (to leave keys or objects), above which you find a large stylish mirror, made of several parts each with a frame, ending on top with a finest chiseled head. On both sides of the wood panelling you find two paintings.
Finally, the room is endowed peculiarly with an old North European fireplace (decorative only, not functioning), a jewel in its own right.
---
For a detailed presentation of the rooms, please go to the INDEX on top of this page or - best - look the 3D FLOOR PLANS in different angles (an innovative feature) or, alternatively, just click any space of both the 3D or 2D FLOOR PLAN, you will immediately go to the page with photos presenting it.





Visit Rome | Rome panoramic views | Rome apartments and villas | Inquire | Rome travel guide | Rome map | Service | Resources
Roman Homes homepage