Jewish quarter - Campo de' Fiori: "Roman Vista":

the third bedroom
An elegant, silent, bright apartment, tastefully furnished and skillfully equipped. It includes three bedrooms, three bathrooms, a sitting room, a separate dining room, the kitchen - laundry room.

Air conditioning

Telephone

Colour TV

High speed Wi-Fi internet connection

Washing machine - dishwasher

Elevator

Autonomous heating

American coffee percolator

Daily cleaning
Personal guide of Jewish Rome on request

To Rome centre map, for the exact location of each property.

Visit also:
The third double bedroom is accessed through the foyer, thus separately from the sitting room. The fine feature of the apartment is thus its star-wise layout, with the bedrooms and bathrooms in different directions, enabling more privacy and comfort (please look also the 2D floor plan).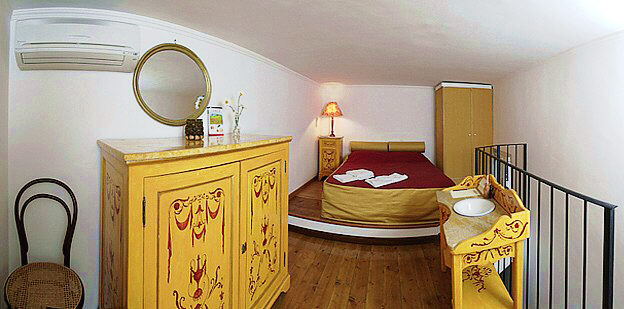 Third double bedroom
This room is simpler and smaller than the other, and it thus suitable for young persons. It is though well appointed and equipped. The floor is wooden, different from the sitting room and dining room (pine tree wood, as opposed to Iroko or white ash tree).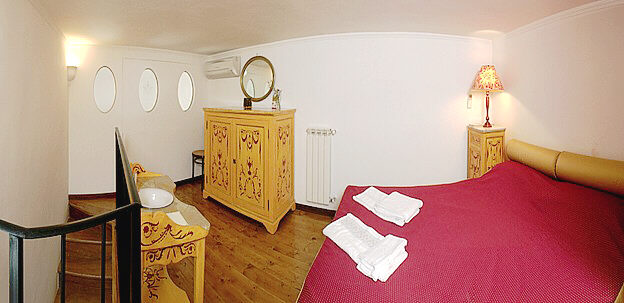 Third double bedroom, opposite view.
The wooden furniture is somewhat cheerful, after a merry Venetian style. You find a wardrobe, a cupboard, a bedside table and an old-fashioned sink, which actually functions as a desk. This room also has an own private, full-fledged bathroom, near the stair leading to it.
---
For the other rooms and features of the apartment, please go to the index on top of this page.

Visit Rome | Rome panoramic views | Rome apartments and villas | Inquire | Rome travel guide | Rome map | Service | Resources
Roman Homes homepage