1. ALL INCLUSIVE PRICES
In general, the great advantage of our vacation and short term rentals is that prices due to proprietors are ALL INCLUSIVE (rent, utility consumption, cleaning fees, taxes etc.) per the rental conditions below. There is a BIG difference between an all inclusive price and one made of rent + taxes + agency commission + utilities + cleaning fees. Also the fast internet connection if free and available 24/7.
For long term rentals these conditions do not apply, or apply only partly.
We advise that you make sure you know well the conditions as you could end up having BAD SURPRISES both with rental companies or with proprietors. With us there are no hidden costs.

All the apartments of the proprietors which we will put you in contact with are furnished and equipped (pans, pots, dishes, cutlery, linen, blankets, towels etc.). A maid service will be supplied at the beginning and at the end of the stay (and usually also after every week) with no cleaning fees, but the apartment must be left in good order. In some properties, cleaning and change of linen and towels is bi-weekly.

WATCH OUT: in most places there is a "cleaning fee" both at arrival and departure, and you have to pay on top 40 - 50 US$ // or 40 - 50 Euro). There are no such fees with us.

- The electricity consumption is included with a daily average allowance or limit which vares with the no. of persons and the property between 18 and 35 kilowatts (kWh), which is a normal/generous allowance. Although it is unlikely that this will happen, if you will exceed the above mentioned limit, the excess will be billed according to the Italian normal national tariff of appr. 0.21 Euros or app. 25 US cents, including VAT (Value Added Tax) per kWh. Very few customers exceed the limit.

- The gas consumption is included with a daily average of 5 - 10 Cubic Meters (MC) depending on the property, which is a normal / generous allowance. After it you pay the excess like in any Italian home, i.e. app. 0.9 Euro or app. 1.15 US$ per MC.
The electricity and gas consumption allowances are just measures to protect proprietors from abuse caused by tenants, just as our all inclusive prices are a way to protect tenants / customers from possible added fees which easily become traps in the rental activity.

WATCH OUT AGAIN: the electricity and gas consumption are expensive in Italy: when not included not only you could end paying a consistent bill. Moreover in most places they will make you pay more than the fares of the electricity and gas companies (with the excuse that the fares are so complicated to understand - there are many tariffs - but with efforts one could understand exactly how much they are). Both Italian and foreign companies operating in Rome do this. Again, check well this point when enquiring.

- PHONE CALLS: All the properties have a normal landline telephone and internet connectivity. Some though might only have a cell phone. There is no cost to receive incoming phone calls, while the cost of outgoing phone calls is not included. It is metered (in a most precise way) and paid according to the normal Italian fares (as any Italian home). For long distance calls, the further the recipient the most the cost (for ex.: 20 seconds to a call to Milan will cost like a 15 seconds call to Vienna etc.).
2. FREE RENTAL AND TOURIST ASSISTANCE
Upon arrival at the property (called "check-in") will give you information on the property, on the quarter: grocery stores, transport etc. Naturally we will give you also tourist information and guidance on Rome.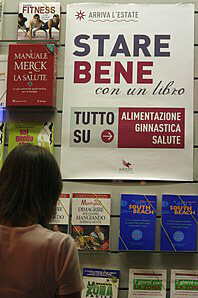 "Feel good" the advert says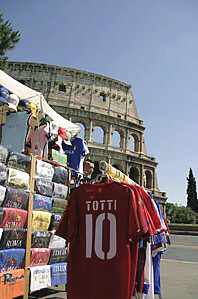 Totti's shirt. He is the captain of Roma, the football team