SPANISH STEPS "ANITA" (Via delle Carrozze) -
Large elegant 3 bedroom 3 bathroom apartment in a quiet and charming street right in front of the Spanish Steps. Tastefully furnished and remarkably equipped.




Complimentary cell phone
FREE 24/7 FAST INTERNET
4 colour TV sets with satellite dish
Independent central heating
Computerised air conditioning
Shower with Jacuzzi
Washing machine + clothes dryer
Dish washer
HI-FI stereo (CD player, tuner)
American coffee percolator, tea kettle
Mixer, orange squeezer, iron, iron board. microwave oven
Fully equipped kitchen
Baby cot bed

Apartment presentation

Visit also:
The sitting room
The front door of the apartment opens into the ample sitting-dining room. Its main features are two ample sofa beds, a large elegant wooden dining table, and a large bookcase.
The sitting room is endowed with a table to dine for 6 persons. It is made of thick wood.

Near to it, to the left, you can see the door of a built-in cupboard, where the dishes, glasses, trays, cups can be found.
Large paintings of old masters, fine courtains and two Persian carpets complete the room.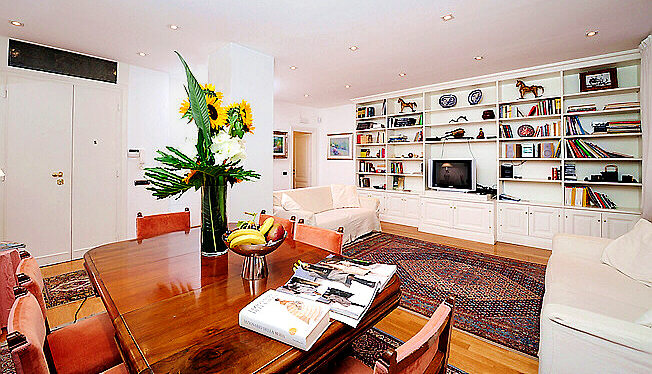 Sitting room, another opposite view, seen from the windows. To the left, behind the sofa you can see the front door. You can also have a good view of the large bookcase, with many sections
The various sections of the bookcase include - among other items - a 28" colour TV (with satellite aerial to watch English speaking channels), a small yet functional stereo-Hi Fi, with CD player, and finally packs of different types of cards, dices, chips, and the chessboard - please see the photos below.
The games corner of the bookcase: the box with packs of different types of cards, dices, and chips, and the chessboard
The photos below show some details of this area of the property.
The built-in cupboard in the sitting room with fine dishes and cups

The passage space after the sitting room
leading to the second and third double bedrooms
Please go to the INDEX on top of this page, to visit the pages with many photos presenting this property

Visit Rome | Rome panoramic views | Rome apartments and villas | Inquire | Rome travel guide | Rome map | Service | Resources
Roman Homes homepage