ANGLICAN: Church of St. Paul within-the-Walls, in Via Nazionale corner Via Napoli 58, tel. 064883339, and All Saints Church in Via del Babuino 153/ b (near the Spanish Steps). Ttel. 0636001881
PRESBYTERIAN: St Andrew's Church of Scotland, in Via XX Settembre, 7. Minister: Rev W.B. McCulloch. Tel. 06 4827627.
METHODIST: Ponte S. Angelo Methodist Church, Piazza Ponte S. Angelo, tel. 0668768314

BAPSTIST: Rome Baptist Church, S. Lorenzo in Lucina 35, tel. 066876652
CATHOLIC

VATICAN: St. Peter's Basilica
Basilica of St John Lateran, Piazza San Giovanni Laterano.


Pontifical Irish College, Via dei Santi Quattro 1, tel. 06772631 (near the Colosseum).


St Isidore's College, Via degli Artisti 41, tel. 064885359


St Patrick's, Via Buoncompagni 31, tel. 0642903787 (near the Borghese Gardens).


S. Silvestro in Capite, Piazza S. Silvestro 1, tel. 066797775 (between the Spanish Steps and the Trevi Fountain).


S. Susanna American Church, Via XX Settembre 15, tel. 0642014554


Venerable English College, Church of Saint Thomas and the Most Holy Trinity, in Via di Monserrato 45, , tel. 066868546 (near Piazza Campo de' Fiori).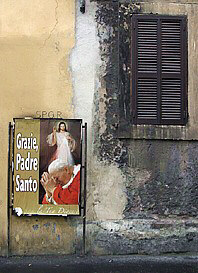 A placard with a tribute to Pope John Paul II ("Grazie Padre Santo" - Thank you Holy Father).