ARRIVEDERCI ROMA
The song featured in the 1958 Hollywood musical "Seven Hills of Rome". The music is by Renato Rascel with Italian lyrics by Piero Garinei and Sandro Giovannini, authors of many Italian musicals based on Rome. The English lyrics are of Carl Sigman. The most famous version in English of the song is by Perry Como (1966). It is not a touristy song, but rather one of the many melodies of those unforgettable 50s and 60s in which Rome was by far the most romantic, lively, imaginative and hospitable place on earth (although more chaotic, it still is).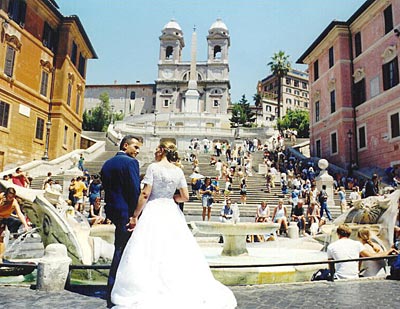 Arrivederci Roma ( Goodbye to Rome )
Arrivederci Roma, Goodbye, goodbye to Rome . . .
City of a million moonlit places, city of a million warm embraces, where I found the one of all the faces, far from home!

Arrivederci Roma, it's time for us to part,
Save the wedding bells for my returning, keep my lover's arms outstretched and yearning, please be sure the flame of love keeps burning, in her heart!
Arrivederci Roma, Roma, Roma, Roma . . .

Visit Rome | Rome panoramic views | Rome apartments and villas | Inquire | Rome travel guide | Rome map | Service | Resources
Roman Homes homepage
MUSIC