Rome medium or long-term rentals
Vatican (Via Veniero): a two bedroom apartment, with sitting-dining room - near the Temple University in Lungotevere Arnaldo da Brescia.
Telephone, colour TV with satellite dish, central air conditioning , washing machine, autonomous heating, answering machine, iron, iron board, ample bathroom and kitchen.
Via del Boschetto. "Boschetto": an economy cosy one bedroom apt., well appointed and well equipped. (2-3 persons).
_________________________________________
We prepare also some medium or long-term rentals. The apartments and villas are well appointed, in pristine conditions, and very well equipped. Usually in Italy rentals are considered long term when they last at least one year (the standard family rental contract lasts four years). Rentals with duration between one and twelve months are considered medium term rentals.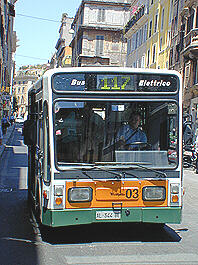 The electric "circular" shuttle bus 117
Please inquire about the possibilies offered, about their availability, and about their cost (the longer the rent, the lower the cost).
As opposed to vacation rentals or short-term rentals, for medium term or long term rentals the utility consumption (gas, electricity etc.) is not included. The type of contract varies with the duration, according to the specific Italian laws on long term rentals. Please enquire.

Visit Rome | Rome panoramic views | Rome apartments and villas | Inquire | Rome travel guide | Rome map | Service | Resources