"Cieli di Roma" - "Skies of Rome" - : Sitting room
The penthouse is situated at the third floor of the ancient palace (equal to the fifth floor of a modern building), with elevator. It is very quiet and bright. Although we did our best, our photographs could not do entirely justice to this unique property.

It includes THREE TERRACES (!) ALL PRIVATE, and with different use (for breakfast, to dine out/socialize, and to sunbath/sightsee respectively), and also a balcony.

To Rome centre map, for the exact location of each property.

sitting-dining room and the first terrace (this page)

THIS PROPERTY IS CURRENTLY NOT AVAILABLE

The sitting / dining room
From the foyer, by means of a little flight of stairs of just a few steps one enters the elegantly decorated sitting / dining room. It includes three sofas, a table and chairs for four persons, bookshelves, a cupboard with a small decorative narghile, a small cupboard with glasses and cups, and a rack with a CD-tuner and TV set.
Notably, there is a large and perfectly working fireplace (a rarity in Rome). There are vintage furnitures, and fine paintings / prints.
The sitting room is endowed with two large windows (one facing the large internal court of the elegant palace, the other on the fireplace with views of the domes and particularly of St. Peter's), and a glass door leading to the first of the three panoramic terraces of the roof garden (open door, in the photo).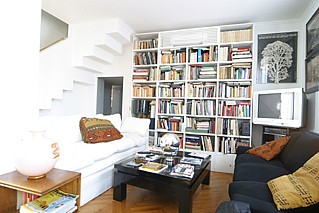 Sitting room
The result is that also from the windows of the sitting room you have panoramic views of Rome, with different perspectives, and particularly towards Nort-West (especially of the domes of Sant'Andrea della Valle and of St. Peter's - left photo, below)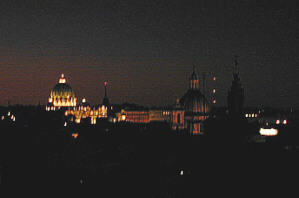 As you can see in the left photo above, from the window on the fireplace there is a splendid view of the domes, particularly inspiring at night.
In addition to the panoramic windows, as mentioned the penthouse is endowed with TWO PRIVATE TERRACES. The first one, small yet cosy, is just after the glass door of the master bedroom, and it is used usually to have breakfast "al fresco".
The other terrace is situated at a higher level, near the kitchen-dining room. From them you have stunning views of Rome. The views and the photos are so many and so beautiful that we decided to prepare a slide show for a complete presentation. Please go to this link to see the second and third terraces of roof garden and their views (slideshow). - you might have to press Ctrl button and enter to access it.

Once you open the slideshow, please make sure to click all the links on top ("Views from the roof garden", "Detailed views", "The Roof Garden") and the thumbnails in the lower part to see the photos!
Also, you can visit: master bedroom and the master bathroom

Visit Rome | Rome panoramic views | Rome apartments and villas | Inquire | Rome travel guide | Rome map | Service | Resources
Roman Homes homepage