| | | |
| --- | --- | --- |
| Rome Guide | | Di sole e di azzurro (Sunny, and light blue) - by Giorgia, 2001 |
Fashion in Rome
For tourists and for shoppers the world over to think of Italy is to think of fashion. Rivaling France since the 1950s as Europe's top fashion producer, Italy itself has become an indicator of style. One needs only to wander the piazzas of any major Italian city, or even small town, to realize that Italians are forerunners of sophistication and style. Many are convinced that Milan represents the pinnacle of Italian fashion, Italy's "fashion capital or the nation's fashion hub, with its world-renowned shopping strip, Via Montenapoleone, and its twice-annual prêt-a-porter runway shows. However, people are changing their opinion, as Rome has become a fashion capital as well with its haute couture (high-class tailor or alta moda) collections and endless boutiques.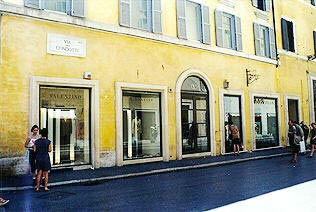 The Eternal City, firmly affixed as one of the pillars of Western civilization, has shaped our culture and school of thought for countless centuries. Now, visitors to Rome can appreciate how this ancient city has also shaped our sense of style since classical times. Already Juvenal observed in the 2nd century AD "In Rome men dress in a showy style beyond their means". More than merely making a "bella figura" (a good impression), it occurs to express imaginatively one's personality and propensity to beauty.
Several of Italy's top fashion houses were actually founded and are rooted in Rome, like those of Valentino and Fendi. After all, the city's beauty, culture, and vivacious spirit seem to have inspired some creativity over the years!
While Milan has prêt-a-porter, or ready-to-wear, Rome has haute couture. Milan has the popular Versace, Prada, and Armani, but Rome hosts influential couturiers such as the Sorelle Fontana, Gattinoni, and Renato Balestra. Rome, thereby, may soon become a close rival to Paris as the couture capital of Europe. The craftsmanship behind Italian fashion is undisputed, and the "Made in Italy" label is a symbol of quality the world over. The superior creativity and artistic genius that have defined Rome for centuries seem to flourish in its fashion industry. The industry, in turn, will raise the status of the Eternal City both in Italy and abroad.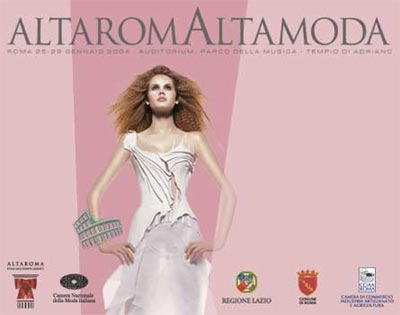 The "AltaRoma" organization is perhaps nowadays the most prominent player in establishing Rome as a top contender in the international fashion game. Each year the organization presents AltaRomAltaModa (Tel. +39 064828933), a symposium of haute couture collections from both well-established and burgeoning new global designers.
Since 2002, the event experiments new takes on the traditional runway show (i.e. on the "defiles" or "sfilate"), concentrating on the connection between fashion, cinema and television, promoting not only fashion, but the worldwide image of Rome as a whole.
While fashion shows are usually closed to the general public, Rome's summer shows are highlighted by an event that both fashion insiders and the mere curious alike enjoy. "Donna Sotto le Stelle" (Woman Under the Stars) is an annual open-air fashion spectacle which takes place on the very Spanish Steps (Piazza di Spagna). Each year in mid-July, a handful of talented designers showcase their latest masterpieces at one of Rome's most celebrated icons. Wandering toward the Spanish Steps to catch a glimpse of Donna Sotto le Stelle is a definite must.
For fashion-savvy visitors to Rome who would like to experience the couture culture, a trip to the city's leading fashion school is certainly worthwhile. L'Accademia di Costume e di Moda (Via della Rondinella 2, tel. 06 6864132) hosts periodic fashion exhibits and participates in AltaRomAltaModa events.
In 1990, famed Italian designer Valentino opened L'Accademia Valentino in support of L.I.F.E. (Lottare Informare Formare Educare), his charitable organization for the fight against A.I.D.S. L'Accademia is located near the designer's atelier on Via dei Condotti, and holds regular art and fashion exhibitions.
From the flea market to the elegant boutiques of Piazza di Spagna, the influence of fashion on Roman culture is both unmistakable and undeniable. Rome visitors are struck by the style and poise of the Roman people, and by the omnipresence of boutiques, fashion schools, fashion organizations, and fashion shows. The prominence of the fashion industry is not lost on the locals either. Romans are incredibly well-dressed and impeccably put-together. From the pubs of Campo de' Fiori, to the restaurants of Piazza Navona, to the bars of Trastevere, Rome itself is an eternal parade.

Roman Homes homepage: Rome apartments accommodations vacation rentals and villas
Boutiques and designers labels
The entire area surrounding the Spanish Steps is Rome's fashion haven, and a shopper's dream come true. Via dei Condotti , Via Borgognona, Via del Babuino, and Via Sistina are all chic and trendy streets, home to antique dealers, art galleries, and exclusives boutiques, drawing throngs of both locals and tourists alike. Fashion is, after all, a universal language.
Below you will find the list of the most important boutiques and fashion labels which can be found in this area. For a presentation of other shopping areas in Rome, please visit this other page.
Chanel
Via Babuino, 98/101.
(tel. 066922070).
Open 3.30-7.30pm Mon; 10am-7.30pm Tue-Sat.
Dolce e Gabbana (D&G)
Via Borgognona, 7d
(tel. 066782990).
Open 1-7pm Mon;
10am-7.30pm Tue-Sat.
Branch, Piazza di Spagna, 82/83 (066792294).
Etro
Via del Babuino 102.
(tel. 066788257)
Open 3-7pm Mon;
10am-7pm Tue-Sat.
Rich collection of cashmere design.
Fendi
Via Borgognona 4e, 4l, 36°-b, 39-40
(tel. 066797641/2/3/4).
Open 2-7.30 Mon;
10am-7.30pm Tue-Sat.
Gianfranco Ferre'
Via Borgognona, 5b, 6, 6a (066797445). Open 2:30-7.30pm Mon; 10am-7pm Tue-Sat.
Alterta Ferretti
Via Condotti, 34.
(tel. 06.6797728)
Open 3-7pm Mon;
10am-7pm Tue-Sat.
Crisp, linear design fashion.
Gianni Versace
Via Borgognona, 25
(tel. 066795037).
Open 3.30-7.30pm Mon;
10am-7.30pm Tue-Sat.
Giorgio Armani
Via Condotti 77
(tel. 066991460)
Open 3-7pm Mon;
10am-7pm Tue-Sat.
Branches:
Emporio Armani
Via del Babuino, 140
(tel. 0636002197);
Armani Jeans
Via del Babuino, 70a
(tel. 0636001848)
Max Mara
Via Condotti 17-19a (066922104)
Open 3.30-7.30pm Mon;
10am-7.30pm Tue-Sat.
Branches:
Via Fratina 28,
Via Nazionale 28-31,
Via Cola di Rienzo 273.
Prada
Via Condotti, 92-5
(tel. 066790897)
Open 3-7pm Mon;
10am-7pm Tue-Sat;
1.30-7.30pm Sun.
Valentino
Via Bocca di Leone 15.
(tel. 066795862)
Open 3-7.30pm Mon;
10am-7.30pm Tue-Sat.
Davide Cenci
Via Campo Marzio, 1-7
(tel. 066990681)
Open 3.30-7.30pm Mon;
9.30am-1.30,
3.30-7.30pm Tue-Sat.
Italian fashion classic suits, shirts, accessories and shoes.