An extremely well appointed property, in which everything is prepared with utmost charm, good taste and elegant. The property is also silent, bright, in perfect conditions, and well equipped. We are preparing the photographic coverage, it will take some time before we finish (one month eeks at least).

Roman Vista: view from the terrace

Roman Vista: the panoramic terrace to dine out
PAGE(S) UNDER CONSTRUCTION
| | |
| --- | --- |
| The property is situated in Via della Chiesa Nuova, very near the famous church Chiesa Nuova, near Piazza Navona. The apartment is at the fourth European floor (fifth American), with elevator. It is situated in an elegant palace, with concierge. | |
| | |
| | |
| --- | --- |
| The equipment is superior: computerised air conditioning in every room (with external engine and silent internal blower operated by remote control), satellite dish, two colour TV sets, normal landline phone (a rarity), a very well equipped kitchen, washing machine etc. | |
| | |
| | |
| --- | --- |
| | Dining room: cupboards, detail |
| | Dining room: cupboard, detail |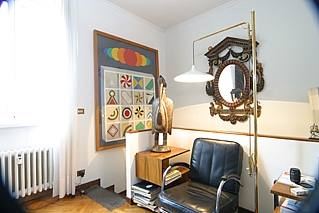 Foyer, detail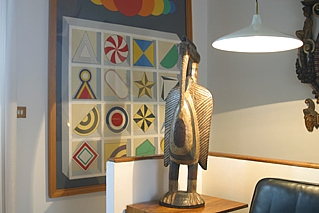 Foyer: detail (zoomed-in)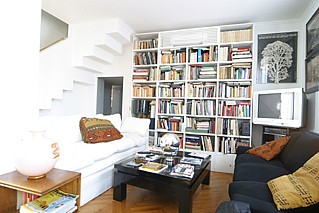 Sitting area of the large sitting room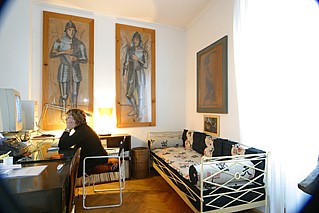 Sitting room: area with the comfortable sofa bed and a desk with fax-phone.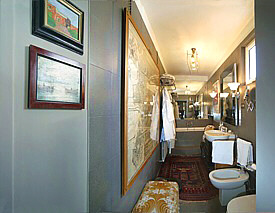 Master bathroom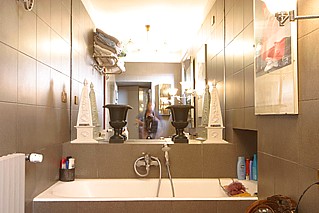 Master bathroom: bathtub with hand-held shower (detail)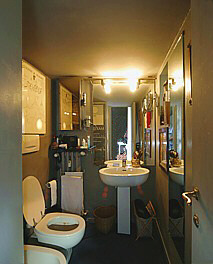 En-suite bathroom of the master bedroom
OTHER PHOTOS WILL FOLLOW SOON: PAGES UNDER CONSTRUCTION
LOCATION: As mentioned, the property is near the Piazza
Navona quarter.
The Piazza has an ancient history dating back to 2,750 years
ago. It was built and re-built, improved and re-styled many times by all the most important
architects and sculptors of Rome (Bernini, Borromini, Bramante,
Michelangelo, Canova etc. etc.).
The result is a spectacular combination of beauty, of countless monuments,
stately piazzas and tiny /cozy little streets, art shops, trendy cafes, more churches than you can imagine, fine
restaurants and family-run trattorias, street markets and
couldn't-be-more-elegant boutiques etc. The people of Rome, with their
wisdom and amiable attitude, complete the picture.
PAGE(S) UNDER CONSTRUCTION