See the detailed
Rome map
with location of properties
Piazza Navona (Vicolo della Cancelleria) "Michelangelo"
An elegant two bedroom (double / triple) apartment with large sitting/dining room and patio. Two bathrooms.

The "vicolo" (little street) della Cancelleria is adjacent Piazza Navona, on the way to Piazza Campo de' Fiori. Photo (a) shows the Palazzo della Cancelleria (Chancellery Palace of the Kingdom of the Popes), and behind it the dome of the Church of Sant'Agnese, by F. Borromini, in Piazza Navona. The Vicolo is between the two. The palace of the apt. is the one at the left, and the apartment is the last at the first floor (2nd floor in the USA).

Telephone,
large Sony colour TV with satellite dish,
Hi-Fi stereo,
washing machine with drier,
air conditioning, iron,
iron board,
dishwasher,
security safe,
heating,
hair drier,
microwave,
mini-fridge and second colour TV in the master bedroom,
Italian coffee makers and American coffee percolator
As mentioned also in the quarter presentation (see above), there is a myriad of characteristic restaurants, wineries, street markets etc. And of course you will find art, history, monuments, churches, characteristic little streets and piazzas, palazzi, fountains, institutions etc. that could fill a book if described even concisely. The palace is original of the 15th century, as engravings on marble slabs prove. The apartment has an independent entrance, a find in Rome (no neighbours to share the door, the walls etc.). The apartment is 150 sq. meters (app. 1,600 sq. feet), and is at the first raised floor. It is quiet (not easy to find in Rome), because the little street is quiet, the walls are ancient and very thick, and finally because all the windows have double glazing (double glasses).
A flight of characteristic and ancient stairs lead from the front door to the ample foyer (lobby), which has the original ancient "cotto" floor, like all the apartment. Arriving at the foyer from the stairs, turning from left to right one can see what is shown in photos a, b, c. In photo (a) to the left there one can see the mild stairs leading to the patio (photo below), and also the ones going to the second double bedroom. In photo (b) one can see the corridor leading to the master bedroom, and also the door with decorated glass leading to the kitchen. In photo (c) one can see an antique set of drawers with lamp and finally the entrance to the sitting room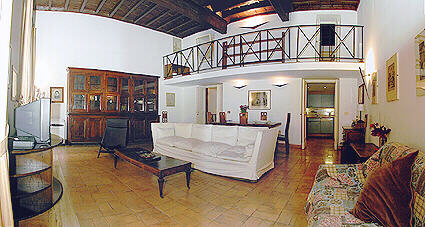 The sitting room is so high and ample that on one side there is also a gallery corridor (which can be entered from the twin bedded room described below).
The sitting room includes: a very ample sitting room area with three sofas (! - only two are shown, the third, a double sofa bed was just added), armchairs, a wooden table including a bar, and on which a 27 inches Sony colour TV with satellite dish is placed (to watch CNN and the major international channels). There is a dining table for eight (although six chairs are shown), a large antique 17th century cupboard, a desk, a trunk, all wooden.

One of the three sofas as mentioned is a sofa bed for one person (two if they are a couple), and another is large, for two persons. The room is also equipped with Hi-Fi stereo set (CD player, tuner, cassette player).
There are two entrances to the kitchen. One is from the foyer, through a wooden door with fine colored glasses (photo b). The other is from the sitting room (photo e). It is ample and has all the appliances: washing machine which also dries, a dishwasher, microwave oven, and of course the fridge, the freezer, fires, oven, dishes, cutlery etc. There are two Italian coffee pots (large and small), and a large electric American coffee percolator (up to 10 cups).
The master bedroom (photos h, i, l) with a king bed is furnished in a simple, yet fine style. It includes 19th century prints (more were added after we snapped the photos). To access the bedroom there is a corridor with a large built-in wardrobe (photo b, to the left). The bed-rails, header and the chest of drawers are wooden.
In the photo (l), snapped on purpose aiming a little high the camera, one can see that even this room, like all the apt., has wooden high-vault ceilings. The room has a large built-in closet, which is like a little room (door of photo l), with many drawers and a space to hang clothes etc. The master bedroom is equipped with a very efficient and silent air conditioner (you can see it in photo h), private mini-fridge, and private second colour TV set (they were added recently, not shown in the photos).
In the corridor bringing to the room there is also the entrance to the sparkling bathroom (photo m), which has two marble sinks (to make the morning cleaning faster), a bathtub with also a hand-held shower (and with shower curtains), a bidet.
The twin beds / triple room is at the first raised floor. There are two beds, bedside tables, a wardrobe, all wooden.
This room has wooden parquet and not the "cotto" (terracotta) floor. It also has an own bathroom, with shower box and bidet. The apartment has hence two bathrooms.
A third bed, foldable (cot bed) can be added, and so there are up to three beds in this room. Moreover, the room is endowed also with a crib bed for infants / babies. It is wooden, old style, and hence fashionable (it can be singled out in the background).
Let us remember finally that this room is equipped with own air conditioning, with "split" external engine (hence silent)
The entrance of the patio is from the foyer (photo a). It is 5 x 2.4 meters (5.5 x 2.75 yards). There is a table with chairs to dine "al fresco" (4-6 persons), or simply to sit and taste some fine Italian wine. In summer a sunshade parasol (umbrella) is supplied, in order to have comfortably lunch (or to sit, or read) in daytime.
Finally, let us remember that the apartment has a safe, a find which is very useful when travelling abroad. Naturally, the apartment has gas-run autonomous heating, with radiators in every room. The heating temperature of both hot water and radiators is electronically controlled by means of electronic sensors. In Summer as mentioned the apartment has perfectly working air conditioning in every room.


The apartment can accommodate comfortably two-eight persons.

The apartment is also equipped with iron, iron board, hair drier, 27th inches Sony colour TV with satellite dish (to watch CNN, CBSB, Skynews etc), and, as mentioned, dishwasher, washing machine with dryer, large American coffee percolator (and Italian coffee pots), microwave oven, and also traditional oven with grill. The sitting room also includes a Hi-Fi stereo set (CD player, tuner, cassette player). The master bedroom includes private mini-fridge and private colour TV. Air conditioning in every room.
CURRENTLY NOT AVAILABLE

Our PRICES are ALL INCLUSIVE. They include: rent, agency commission, cleaning fees (with linen / towels / soap supply), check-in/out done by a professional assistant, assistance during your stay, utility consumption of gas and electricity with generous limits.

Our quality properties are carefully selected, prepared and maintained.

We handle every aspect directly and personally. We are not an internet "portal", nor intermediaries: we don't "collect" many properties just to book them, cash commissions and pass on to others giving poor service: we only have limited selected properties to ensure attentive service. We will follow you in every stage and detail: extensive e-mail property and travel guidance before renting, check-in/out and assistance during the rental.

We are based in Rome, and we also prepare many side services and daily excursions.

Visit Rome | Rome panoramic views | Rome apartments and villas | Inquire | Rome travel guide | Rome map | Service | Resources
Roman Homes homepage